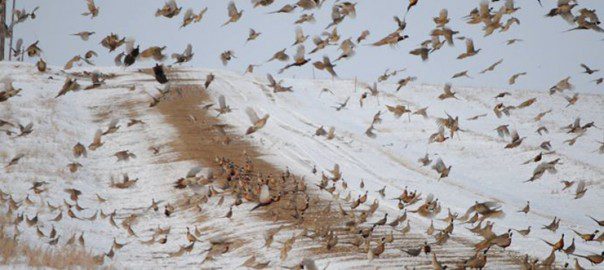 2016 South Dakota Pheasant Hunting Projection
I have been through the food plots numerous times so far this year with fertilizing and spraying, and the holdover pheasant population is looking outstanding! In addition, we received a couple of extended, slow rains with both rains producing 2 inches of rain which has saturated our soil profile and filled are watering holes. These rains have really made the wheat and grass grow tall, early in the season, so the nesting habitat is looking fabulous!
Another major factor that I see taking place is the increase in winter wheat acres. One of the main reasons that Lyman County boasts such a high pheasant population is due to the fact that winter wheat normally comprises the majority of acres of croplands, and winter wheat is known to provide some of the best, if not the best, nesting habitat for pheasants. However, back in 2012, the drought led to a very poor stand of wheat, and a high percentage of those acres were sprayed out in the spring of 2013 and planted back into a fall, row crop. Acres that go into a fall crop are barren during the nesting season and provide no nesting value. Those acres in fall crop have to cycle through years of crop rotation to get back to winter wheat. We are back to our normal high rate of winter wheat acres, and they are looking fabulous!
2016 is looking to be a fantastic year for South Dakota Pheasant Hunting in Lyman County at Ringnecks Lodge!