Come and enjoy the highest-quality pheasant hunting vacation at Ringnecks Lodge. We provide the best pheasant hunts, meals, and accommodations—everything you need for the perfect hunting vacation for family, friends, and corporate retreats.
Ringnecks Lodge, located in Presho, South Dakota, maintains more than 20,000 acres throughout Lyman County. This real estate is divided into 40 separate fields, including 300 acres of food plots and 2,500 acres of conservation reserve program (CRP) land. This large amount of land allows us to offer a uniquely challenging and engaging hunting experience.
When you hunt with us, you have the opportunity to:
Choose the hunting package that best suits your group's needs, whether you plan to hunt for a day or over a long weekend. View our package rates on our pricing page.

Hunt the best pheasant population in the country.

Strategize based on your location, taking into account the availability of food and water as well as how these resources affect bird behavior.

Stay in our spacious lodging and take advantage of the comfort and amenities which includes delicious meals prepared by Chef Matt. Learn more about our historical 1907 lodge and the renovations made to ensure your comfort on our lodging page.

Hunt multiple fields to experience a great variety of habitats and different types of terrain.
Browse the information at the bottom of this page to learn more about guided hunting, safety precautions, our hunting dogs, and the necessary licensing to hunt with us.
At Ringnecks Lodge, our grounds and lodge are designed to facilitate your best pheasant hunting experience. Ready to book your stay? Contact us today to make reservations, ask questions, or learn more about our property.
"I have hunted for five years in South Dakota and the best true hunting experience for pheasants was with Ringnecks Lodge because there is so much variable terrain, not just crop rows. The variety makes it so much fun. The birds are wily and wild, sneaking around you if they can get away with it. Also, the deer population makes it fun when a deer flushes instead of a pheasant. I am coming back this fall."
- Hank Skidmore–Bellevue, WA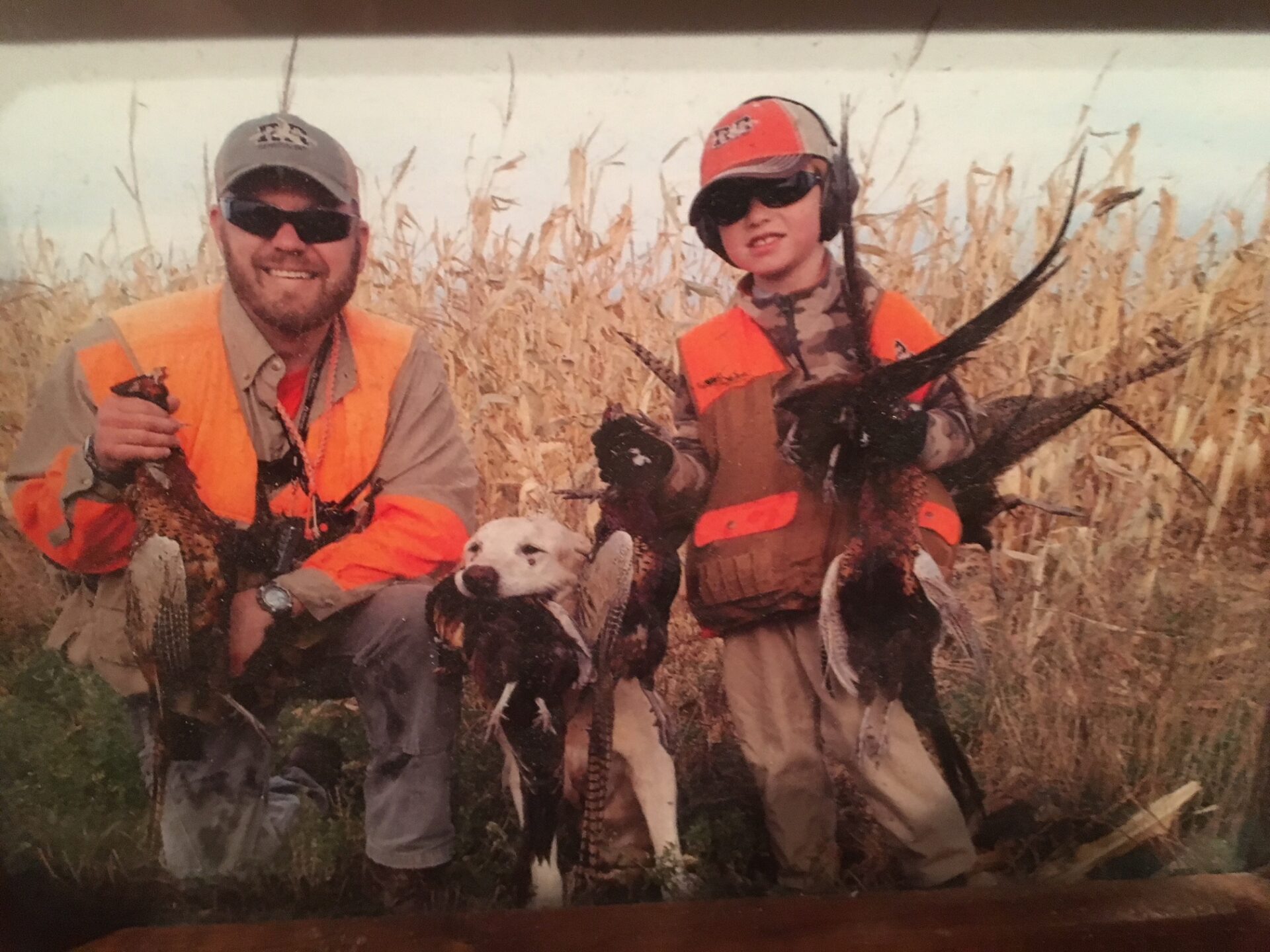 South Dakota Pheasant Hunting Guides
At Ringnecks we provide guides and dogs to assist your group with safety, hunting strategies, flushing, and retrieval of your birds. Our guides know a lot about what to expect for bird numbers, where they're likely to be concentrated, and how they're likely to flush to they are there to assist you, assure your safety, and provide your group a great hunting experience all around.
At Ringnecks Lodge, safety comes first! Before hunting, a safety talk and check is conducted to foster a safe hunt and to ensure that everyone is aware of the laws and regulations that apply to South Dakota pheasant hunting.
Ringnecks reserves the right to terminate any hunt in which the rules, regulations, and/or safety are blatantly disregarded.
Ringnecks has trained dogs available for your hunt. Hunters are also welcome to bring their own dogs, provided vaccinations are current and the dog is well-behaved. Dogs are NOT allowed to roam free inside the lodge. We do allow crated dogs inside. We also have outdoor kennels available. We recommend conditioning your dog beginning a few months prior to a hunt.
Pheasant Hunting License Information
Hunters will be required to purchase a South Dakota hunting license. Hunting licenses and handbooks of South Dakota hunting laws and regulations are available from S.D. Game Fish and Parks online at:
Hunting with Ringnecks will provide your group the best South Dakota pheasant hunting
vacation and will leave you with memories of a lifetime!